Ever heard of reverse mortgage? It is an idea that is still evolving in India but surely has more benefits when compared to the conventional methodology of mortgage. The whole idea of a reverse mortgage is entirely opposite to the regular mortgage process where a person pays the bank for a mortgaged property. This concept is particularly popular in the western countries.
Now, Antworks Money brings this concept to India with an aim to bring more financial benefits to the citizens here.
Key Features
A senior citizen who holds a house property, but lacks a regular source of income can put his property on mortgage with a bank or housing finance company. The bank/ housing finance company pays the person a regular payment
The loan amount is dependent on the value of house property as assessed by the lender, age of the borrower(s) and prevalent interest rate
The loan can be provided through monthly/quarterly/half-yearly/annual disbursements or a lump-sum or as a committed line of credit or as a combination of the three
The Senior Citizen borrower is not required to service the loan during his/her lifetime and therefore does not make monthly repayments of principal and interest to the lender
The borrower(s) will continue to use the residential property as his/her/their primary residence till he/she/they is/are alive, or permanently move out of the property, or cease to use the property as permanent primary residence.
The lender will have limited recourse i.e. only to the mortgaged property in respect of the RML extended to the borrower
The way this works is that the bank will have the right to sell off the property after the incumbent passes away or leaves the place, and to recover the loan. It passes on any extra amount to the legal heir
The borrower(s)/heir(s) can also repay the loan with accumulated interest and have the mortgage released without resorting to sale of the property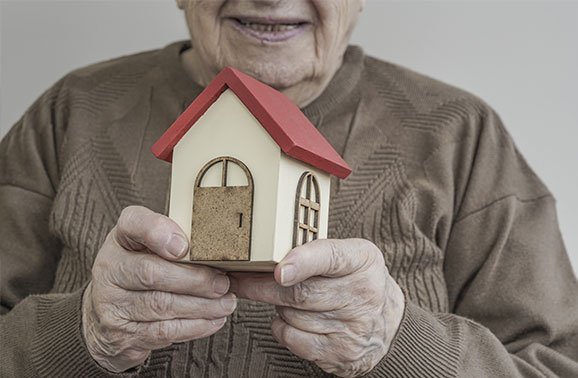 The Factors Influencing Loan Amount Secured
Age. If married, the age of the younger spouse is considered
Property value
Interest rate that one is willing to go with
Why Go for Reverse Mortgage?
No more worries about monthly installment payments
Improved cash flow
Paying off debts and meeting unforeseen expenses made easy
Easy to pay off the mortgage
Who can Opt for a Reverse Mortgage?
Who are permanent citizens and do not intend to move
Have enough savings to take care of them
Who have ready to maintain their property
Who are looking forward to supplement their income
Get in touch with us to understand how reverse Mortgage can be the right option for you.